TEN blogs
Introducing Candidate Profile 2.0: Your Gateway to Exciting Opportunities in Gaming and Esports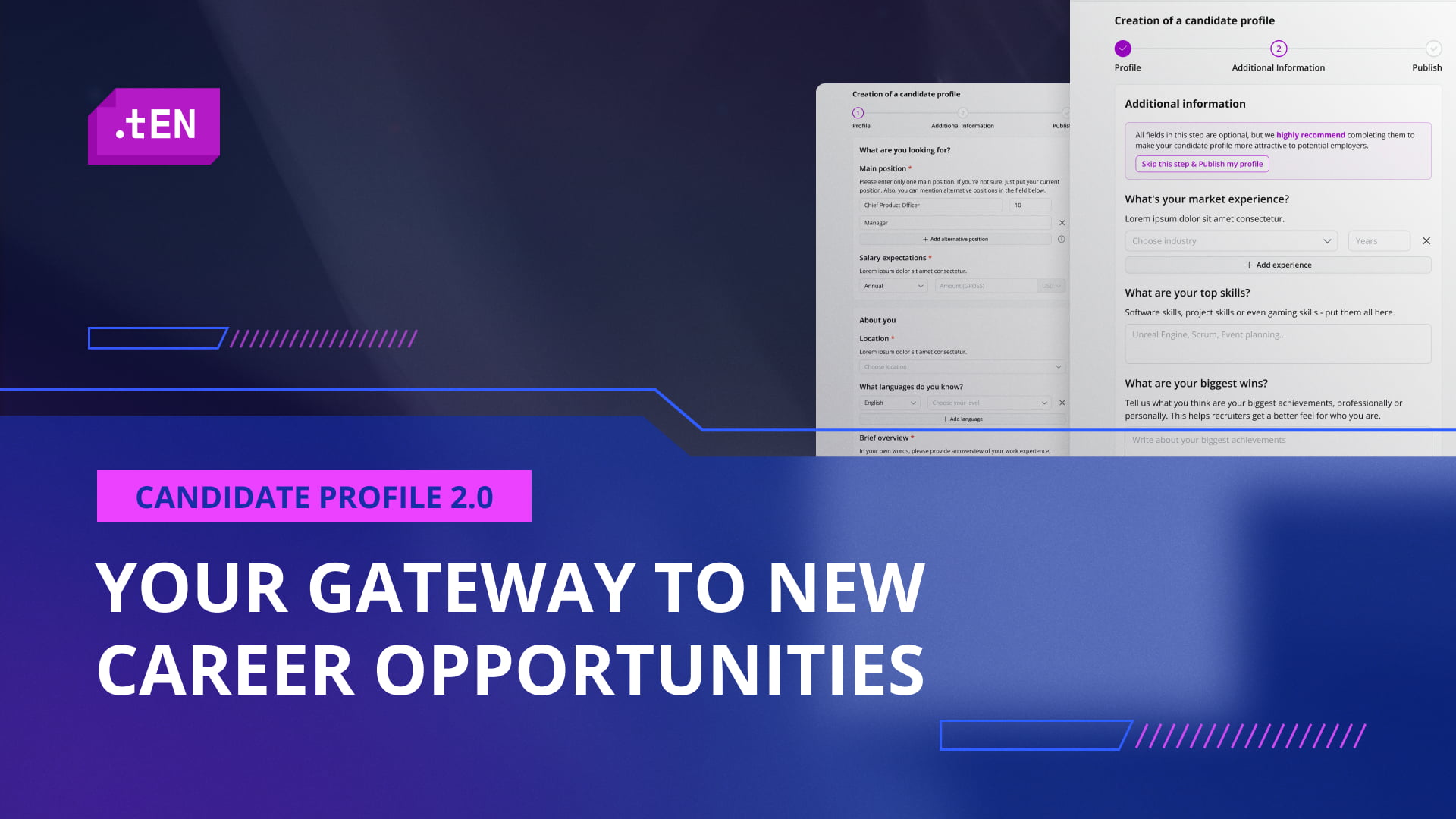 Time has swiftly passed since we initially launched the candidate profile feature on our TEN.gg platform, marking a significant stride in our commitment to foster growth within the gaming and esports industries. Today, we're thrilled to announce the introduction of Candidate Profile 2.0, a substantial upgrade that serves to enhance your experience and optimize your journey towards landing your dream job in this dynamic and rapidly evolving sector.
We are deeply grateful to our community, especially those who embraced the initial version of the candidate profile, provided us with invaluable feedback, and leveraged this feature to propel their careers forward. Your insights and experiences have been instrumental in shaping this updated iteration.
Our guiding principle in developing this tool was to empower industry-specific professionals to present their unique skills and experiences in an industry-focused directory. This comprehensive directory is intended to be a beacon for recruiters, enabling them to efficiently identify potential candidates who align with their specific requirements. By integrating advanced filters and search capabilities, we aimed to create a time-saving tool that provides value for both job seekers and employers. However, we recognized that our initial approach required a significant amount of information upfront, which may have been overwhelming.
Taking this into account, we've analyzed your feedback, consulted with recruiters, and streamlined the process. We've reduced the number of mandatory fields in the candidate profile, making the overall experience more user-friendly. Additional information has been relocated to a new page and is now optional. Although not required, we strongly recommend providing these details to improve your profile visibility, increasing your chances of connecting with your dream job, and, ultimately, saving you time.
Recognizing the diverse needs of our community, we've also introduced the Job Alerts feature for those who may not be ready to fully complete their profile but would still like to stay informed about new job opportunities. We'll be sharing more details about this feature in an upcoming guide.
In the meantime, we have prepared a comprehensive guide that walks you through the process of creating and optimizing your candidate profile under the new Candidate Profile 2.0. The guide provides step-by-step instructions on how to best present yourself and your skills to potential recruiters, boosting your chances of landing that dream job in the gaming and esports industry.
We sincerely appreciate your feedback and continued support as we evolve and strive to provide you with the best tools and resources to advance your career in the gaming and esports industry. Stay tuned for more exciting updates, and we invite you to journey with us as we continue to shape the future of professional opportunities in this vibrant industry.