Business details
Headquarters
Buenos Aires, Argentina
Business type
Sole Proprietorship
Communications languages
English, Spanish
Business size
101-200 employees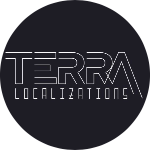 This profile has not yet been claimed by the owner. If you represent this business, you can request ownership through the
claim form
About
We are a boutique localization company that helps video game developers and publishers reach international markets by providing high-quality localization service. Just as you, we care about the gamers' experience, regardless of their language, because we are gamers ourselves! This is our secret sauce: we combine a highly specialized localization team with a passion for video games. Our goal is to help you localize your games, so that you get raving fans, everywhere.
Reviews
Your reviews will be shown here!
When someone leaves a review about cooperation with the business, feedback will be shown in this place.