Business details
Headquarters
Long Beach, United States
Business type
Public Company
Communications languages
English
Business size
21-50 employees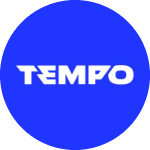 This profile has not yet been claimed by the owner. If you represent this business, you can request ownership through the
claim form
About
Based out of LA, Tempo is a gaming entertainment brand and production company founded by Andrey Yanyuk. We exist to unleash the potential of gamers through live, interactive, immersive storytelling. As one of the most influential gaming streaming networks over the last five years, we have long known that the future of content is live. With over 3.6M Twitch followers, we take tremendous pride in sharing our lives with the world. Since the outset, we've been empowering streamers and content creators across the gaming and live communities. We're taking live streaming away from the desktop and out into the world. Through IRL, we will expose our world with more immersion, imagination, inventiveness, bravery, and honesty than ever before. We've already launched Game Changers with Jake'n'Bake in Japan, which has become the #1 show in its time slot on Twitch throughout the entire seven-episode season. We're proud to have collaborated with world-leading brands along the way, including Red Bull, Amazon, Activision, NVIDIA, Honda, NFL, and HyperX. We're looking forward to even more in 2021 and beyond!
Reviews
Your reviews will be shown here!
When someone leaves a review about cooperation with the business, feedback will be shown in this place.