Business details
Headquarters
Berlin, Germany
Other offices
Wrocław, Poland
Business type
Privately Held
Communications languages
German, English
Business size
101-200 employees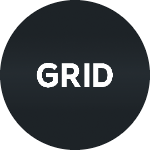 About
At GRID we're engaged to build and mature esports data across our platform. Whether it's recording the first hit on a Roshan, the player location on the pursuit of a bomb plant, or something more familiar like fixture data, our approach is always the same. Disciplined towards a game-agnostic data design, we aim to accelerate the consumption and distribution for our partners and to our consumers respectively. GRID places itself at the centre of the data ecosystem within esports, bringing value en masse to Publishers, Tournaments, Teams, and Broadcasts. Creating exciting products and initiatives tailored towards making the very most of the rights held data available to us. Our core business works with server data, which is rich, granular, and fast. This is our future, and we're extremely motivated in our pursuit to realize it. Our culture is our most prized asset across the business, and if you're driven by your own initiative to succeed you'll fit well within the GRID team. We offer a challenge culture that is cloaked in respect and honesty towards our fellow employees. We reach decisions by consensus and logic, together.
Reviews
Your reviews will be shown here!
When someone leaves a review about cooperation with the business, feedback will be shown in this place.