TEN blogs
What makes esports an esport
Chris Kissack
17 Mar 2023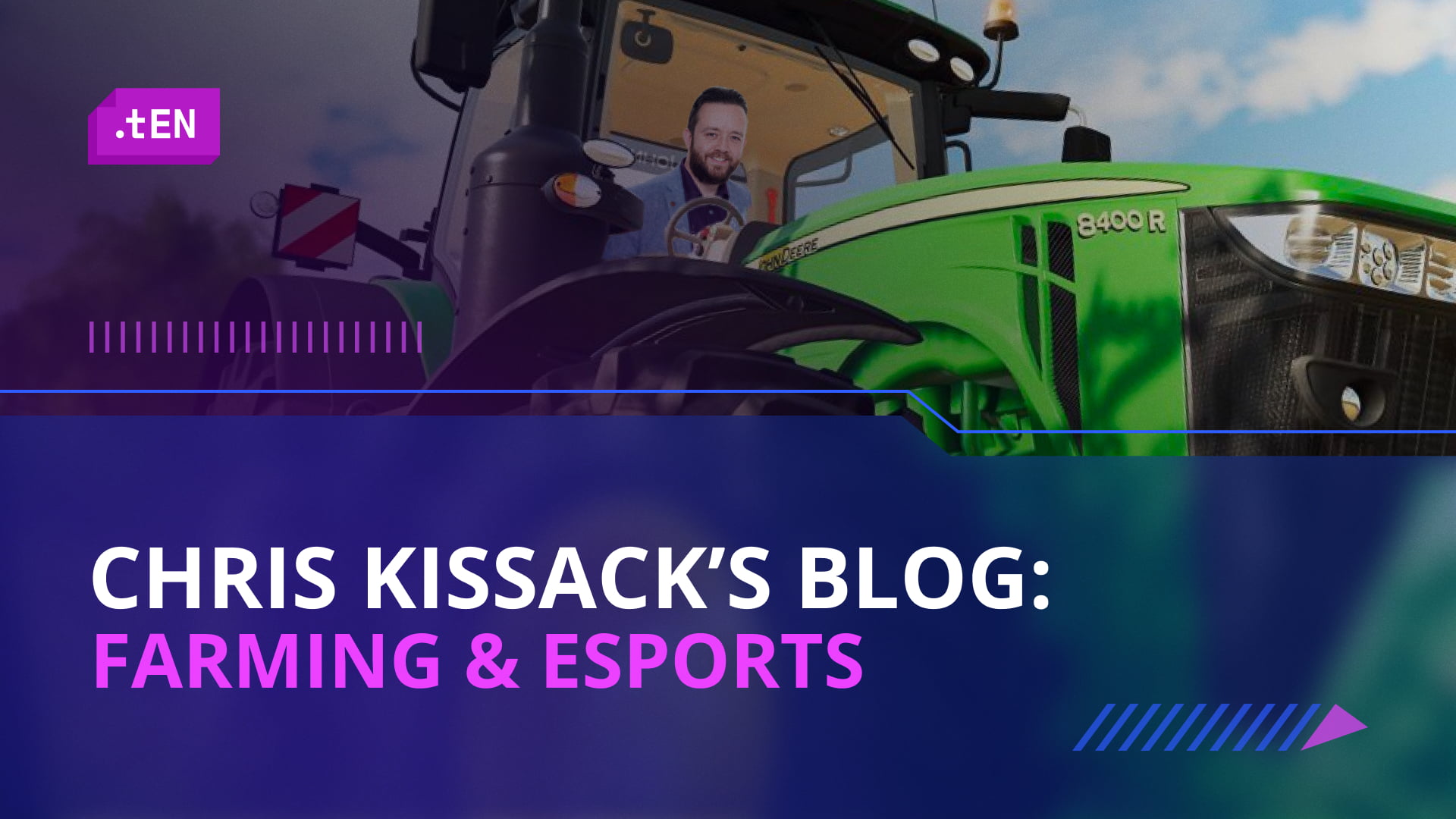 "If you want to understand what ingredients it takes to create an esport, you need to go farming," I stated on stage at an esports conference. In fact, I've repeated this statement at numerous conferences. It was in response to the question, "What makes esports an esport?"
To clarify, when I say "farming," I refer to the aptly named "Farming Simulator" by GIANTS Software. I'm not suggesting you head out to your local field to find the answers. Although, if you happen to come across one of the new generations of farmer gamers, they may actually offer some words of wisdom!

Before we fire up our harvesters and bailers, I want to let you know that this article is full of farming analogies. So let's start with the most crucial ingredient used throughout the world of esports: authenticity. If a title publisher, tournament operator, service provider, team, or organization fails to approach everything they do in the space with authenticity, fans will detect it as easily as one can detect the unpleasant odor in an area where bulls reside on an actual farm.
If you're a fan or someone who has been involved in esports for an extended period, you'll understand what I'm referring to. We could spend hours discussing what authenticity means in esports and giving examples of it (right here on TEN.GG is an excellent illustration of authenticity! ;)), but essentially, it entails demonstrating that your actions come from a place of wanting to support, grow, nurture, and give back. Prioritize adding value before attempting to extract value.
This level of authenticity is visible within the Farming Simulator League, the official tournament structure for Farming Simulator, in the way they communicate with their fans through blog posts, update videos, and the changes they make to the game's competitive meta on patches and new releases. They are clearly enthusiastic about their league, and that passion is evident in everything they do.
Following authenticity comes patience. Creating a sustainable esport takes time and cannot be achieved overnight. It's similar to actual farming; you don't plant your crops and uproot them as soon as you see the first signs of life and expect the best outcome that will be sustainable for future seasons. In esports, it takes time to build communities, and those communities, which are made up of fans, will give feedback, challenge, and voice their opinions about what they want, what they don't want, and what they find the most entertaining. Looking back at the most popular and long-running esports titles like Counter-Strike and DOTA, we can see that these titles were not only created by fans, but those fans also shaped how tournaments were structured and what modifications were needed to ensure fair play and competitive integrity. This did not happen overnight; it took years for developers and publishers to provide their official support, while games were run in church halls and internet cafes, with fans creating maps, rule sets, and modifications to the games, sharing and learning from other players around the world.
A great example of this is what happened with Farming Simulator. The team at GIANTS did not set out to create an esports title; they built a video game on farming first and foremost. This game was initially designed to be played solo. The competitive element of the Farming Simulator began to take shape with the rising popularity of a bale stacking game mode in Farming Simulator 17, particularly at trade shows. This was fueled by what the fans wanted and got excited about. They took that and built a team-based model where 3v3 teams compete in a harvesting race over 15 minutes, with points awarded for bales and grains harvested, and combos to be had.
It has a Pick and Ban phase just like in other established esports, where teams strategically select the vehicles that can and cannot be used within the match and played by specialists who use certain vehicles or perform different tasks on the map. All of this is very similar to what can be found in established esports titles such as Counter-Strike or League of Legends.
The next ingredient is choosing partners sharing the same understanding and passion as you do for your venture into competitive video gaming. Partners are vital to growing in esports, and choosing the wrong partner can be devastating to your longevity in the space. As you become successful and grow, whether by creating a title, running a tournament, or putting a team together, there will be brands and businesses from outside gaming who want to get involved. These partners can provide prize funds, and help with the costs of running a tournament or hosting an event. However, if they are non-endemic and have not been chosen wisely, their expectations and engagement with your fan base can potentially be seen as inauthentic and ultimately damaging to what you have built.
With the Farming Simulator League, you can see a fantastic example of partnering. You have Nobel Chairs, who are a known, trusted, and recognized brand within the gaming and esports community, and you also have brands recognized within the farming community. This can also be seen within the organizations that compete within the League, who are sponsored by brands that take the time to support their team with authenticity. For example, the world champs are Trelleborg, also known as "the Borg," who are owned by a company that makes wheel systems for farming equipment.
Lastly, it's substantial to nurture future talent to ensure even better results in upcoming seasons. Unfortunately, this is often overlooked, even by those who have established themselves authentically within the industry. As any farmer knows, planting in the spring allows for a good harvest in autumn, which helps you through the long winter. They might just be saplings at the beginning, but with time, care, needed support, and a dash of patience, they will grow into something great in the future.
While the Farming Simulator League may not be for everyone, I doubt it will distract me from my CS major, and I'm not about to trade in my SMG for a shiny red Axial Flow 240 series harvester.
However, I will continue to watch the FSL and would recommend it to anyone who wants a reminder or understanding of the ingredients it takes to make an esport an esport.
I don't think my colleagues here at TEN.GG would be into Farming Simulator, but for those in the industry who know me, it most likely doesn't come as a surprise. It also gives me comfort that I am with the right team because when I sent over the draft of this article, they got it and understood why. I'm also sure that they're gathering up farming GIFs and working on some memes, but I wouldn't want it any other way.
Author: Chris Kissack