TEN blogs
How to create a candidate profile
TEN.gg Team
Author
25 Nov 2022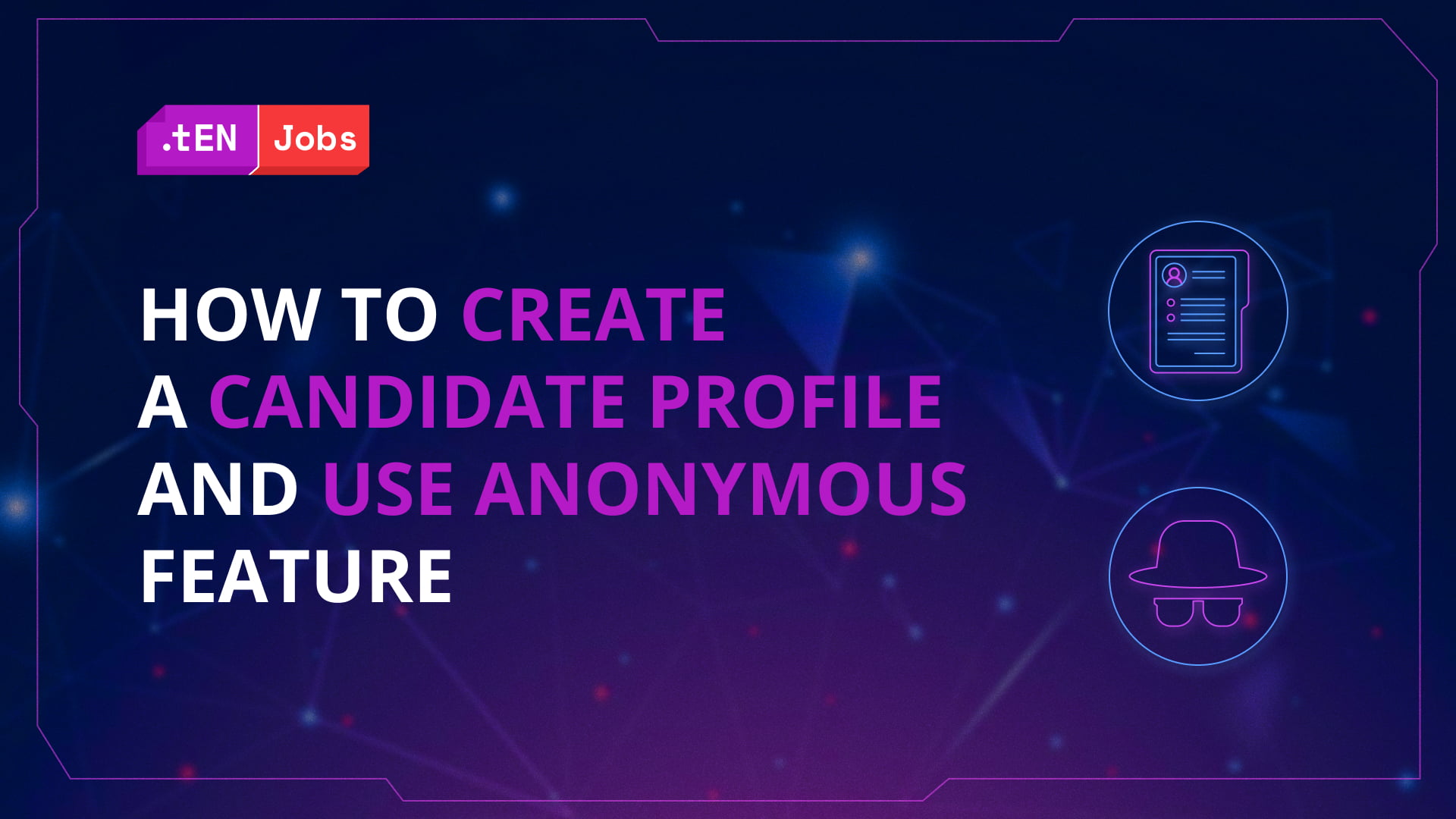 Getting yourself set up for companies to contact you through a candidate profile is quick, simple and completely free to do. With this guide we'll run you through all of the key steps.
Before you start…
Before you start making your candidate profile, make sure you're logged in with a personal account first. If you don't yet have a personal account, click 'sign up' at the top right, and you'll have the option to make a new username or password with your name and profile picture, or simply use a Google or LinkedIn account:
Important note
Keep in mind that at any point during or after creating your candidate profile, you can choose to set your profile to anonymous, meaning that your personal profile and contact details will be hidden from recruiters. If a recruiter is interested in talking to you, they can send a request for this information instead and you'll have the option to accept that request, or deny it if you don't want to share your information:
Creating your profile
Step 1: Go over to the Jobs section of the TEN website, make sure you've chosen your personal profile, but not the company (if you have one), and click 'create a candidate profile'.
Step 2: Enter as much information as possible on the type of position you're looking for, what experience you have in the sector, your skill set, location, languages and what your salary expectations would be. These all help recruiters pick you out of the candidate pool more easily.
Step 3: Add any additional information about yourself that you'd like to provide in your own words. These sections are not all mandatory for creating your candidate profile, however we recommend completing as much as possible. The more information recruiters have to work with, the more accurately they can match you to the role they need to fill.
Step 4: On the next page, enter your contact information, any portfolio you may have and your CV or resume. You can also choose which messaging platform works best for recruiters to contact you.
Step 5: Publish your profile and just wait for recruiters to get in touch with you!
Some tips to remain anonymous
By following these tips, you can effectively rephrase your job experience in a way that maintains your anonymity while still showcasing your skills and achievements to potential recruiters.
Use general terms to describe your job responsibilities and achievements: Rather than listing specific projects or tasks, try to use more general terms that apply to a variety of roles and industries. For example, instead of saying "Implemented a new CRM system at XYZ Company," you could say "Successfully implemented a new software system to improve company efficiency."
Avoid mentioning specific company names: Instead of listing the name of your current or previous employer, you can simply describe the industry or sector you worked in. For example, "Worked as a marketing manager in the tech industry" is less identifiable than "Worked as a marketing manager at XYZ Tech Company."
Use a functional resume format: A functional resume highlights your skills and achievements rather than listing your job history chronologically. This can help you focus on your strengths and accomplishments without drawing attention to specific job titles or companies.
Avoid including identifying information: Make sure not to include your full name, contact information, or any other personal details that could be used to deanonymize you.