TEN blogs
Creating a request on TEN.gg: a step-by-step guide
TEN.gg Team
Author
10 Feb 2023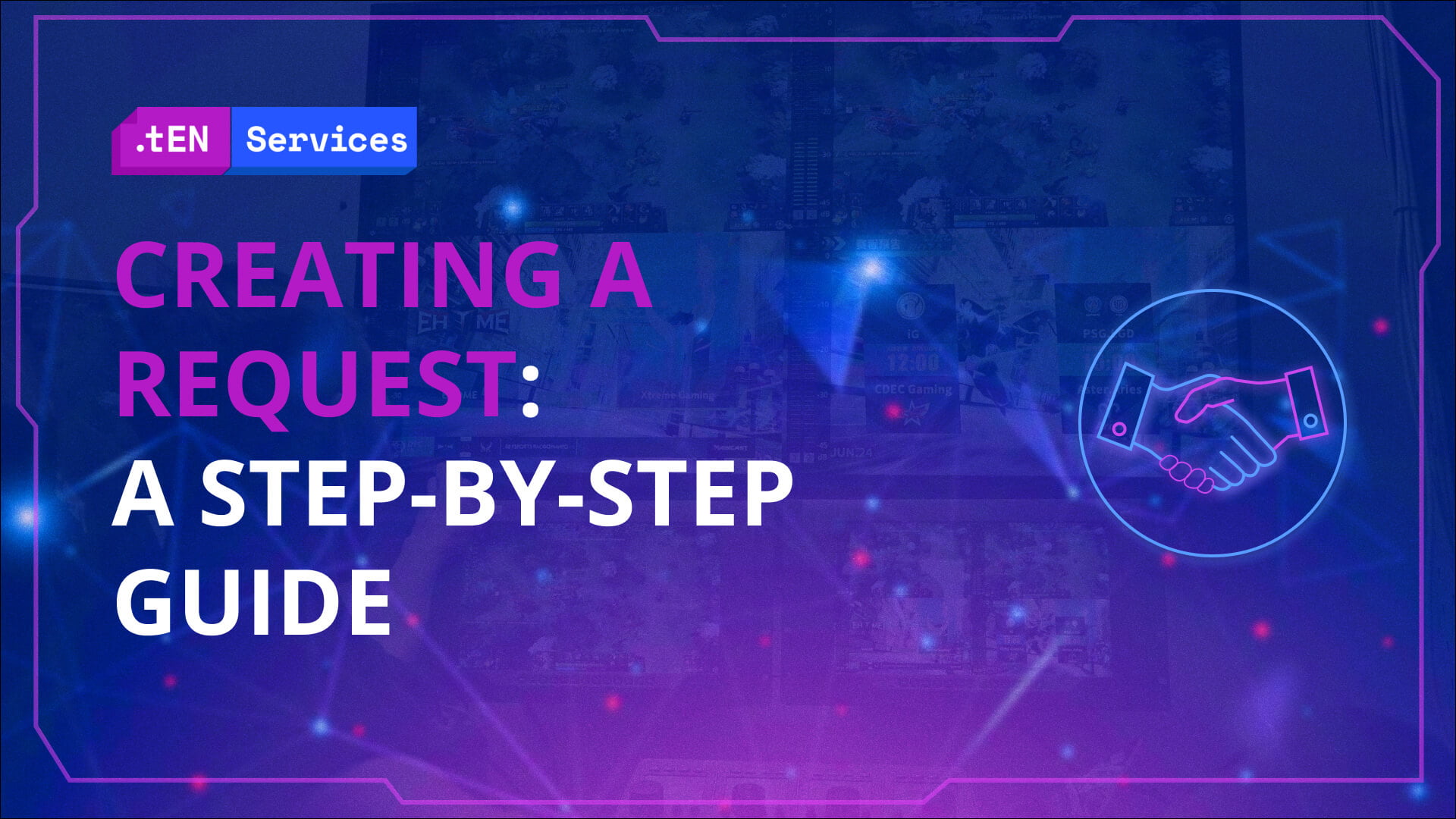 At TEN.gg, we believe in making the world of esports more connected and accessible. That's why we're excited to introduce the first component of our TEN.gg Services tool: Requests. With this new feature, users can easily create requests for a wide range of needs, including finding information, seeking collaborations, outsourcing tasks and projects, and much more.
To help you get started, we've put together a step-by-step guide on how to create a request on TEN.gg. Follow these simple steps and you'll be on your way to making valuable connections in the world of esports.
Step 1: Choose the Right Account
Before you start creating a request, make sure you're logged in to the correct account. If you're representing a business, make sure to select the "Acting as" menu and choose the appropriate account.
Step 2: Select the Type of Request
On TEN.gg, we offer four different types of requests to help you find what you're looking for. These include:
Service: For specific tasks or projects that need to be completed
Partnership: For collaborations, mutually beneficial deals, sponsorships, etc.
Information: For specific data, contacts, information, or advice
Other: For requests that don't fit into the above categories
Step 3: Give Your Request a Name
Name your request something that clearly describes what you're looking for. This will help attract the right applicants and increase the chances of finding the perfect partner.
Step 4: Provide a Detailed Description
In this section, you should provide as much information as possible about your request. The more details you provide, the more likely you are to attract the right applicants.
Step 5: Attach Relevant Files
If you have any files that would help describe your request, feel free to attach up to five files with a size of 50 MB each. Keep in mind that these files will be displayed to anyone visiting your request.
Step 6: Add a Budget
If your request has budget limits, make sure to add them. This will help manage expectations from applicants and ensure you find the right fit.
Step 7: Set a Deadline
Choose the deadline for when applications will close. After this date, you won't be able to receive new applications for your request.
Step 8: Choose Who Can Apply
Depending on your goals and the type of request, you can choose who can apply:
Only Business: Only companies registered on TEN.gg can apply
Only Individual: Only individuals can apply
Business Profiles and Individuals: Both can apply
Step 9: Add Relevant Tags
Add up to ten relevant tags to your request to help us match your request with the right applicants. Make sure the tags accurately reflect the idea behind your request.
Step 10: Use Additional Questions
To help with your selection process, you can also use additional questions to gather more information about applicants. You can ask for links, proposed prices, or any other information that will help you make the best decision.
Step 11: Request Attachments
You can also request attachments, such as presentations, spreadsheets, or pictures, to help you with the selection process.
That's it! With these simple steps, you can create a service request on TEN.gg and start making valuable connections in the world of esports. If you have any questions or need additional assistance, don't hesitate to contact us on the website or via email support@ten.gg.